Honored to have pages from my Senate district in the Capitol. Ainsley VanderGiesen attends Mulvane High School. This is Ainsley's 4th time to page for me on the Senate floor. She is an All-Star Page! I appreciated her and her family's support during my last campaign, too! I also welcomed Boy Scouts: Nathan McDonald, Gage Dean and Ethan Denning, all from Haysville, as pages. I extend my appreciation to Former Kansas Senator, Judge Phil Journey, for his efforts on arranging for the Scout's trip to the Capitol.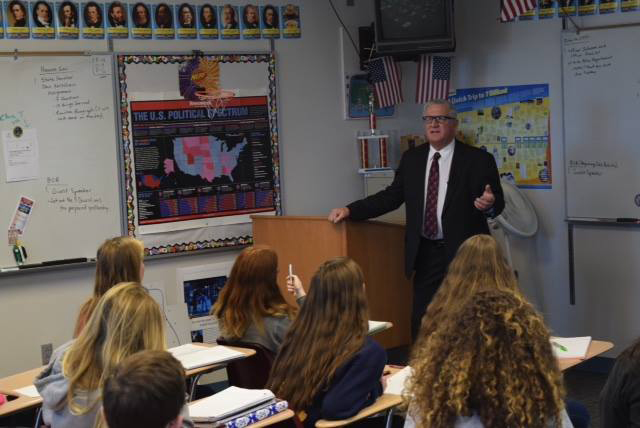 At the end of January, I visited with Mr. Holle's honors government class and shared about current legislative topics. I really enjoyed the dialogue and the participation by the students. It was a very fine day at Goddard High School.
CO-OP, KS Grain & Feed, and Agribusiness members stopped by the office in January while attending the Legislative Action Day in Topeka. I certainly appreciate their efforts on behalf of their customers and patrons.
2017 Rally for Life--a March for Life. Proud to be announced as a pro-life legislator on the Capitol steps.
Enjoyed visiting and receiving SAFE information from Tanner Congleton and Ally Rakestraw, Eisenhower High School students, along with their instructor, Crystal Simmons, in my office. Seatbelts Are For Everyone (SAFE) is a teen run, peer to peer program that focuses on increasing teen restraint compliance through education, positive rewards, and enforcement. It is designed to bring awareness to the importance of wearing seatbelts. Great work is being done by these enthusiastic students! For more details visit SAFE at www.seatbeltsareforeveryone.org.